Owner of Mark's Model Railservices
A run-through of the personal photo gallery below gives you a good indication of how long Mark Preussler has been involved in model trains. Learning a lot about repair and construction of models from his dad, the late Merlin Preussler, Mark finally set off on his own in 2008 with his own business. Formally doing business as the "Speeder Shops" on e-bay, the name was quickly changed to Mark's Model Railservices to better describe the business. On a personal note, in 2010, Mark was awarded the highest honor the NMRA bestows: Master Model Railroader. At left, former NMRA President Mike Brestel (r) awards the certificate to Mark during the NMRA Convention in nearby Milwaukee. The abbreviation "MMR" seemed suitable for the business as it matched the NMRA Master Model Railroader abbreviation as well and has stuck around the business for about 8 years now.
Consultant to Mark's Model Railservices
Marv's current role in the business isn't as an employee, but as an unpaid consultant. It's not easy being the younger brother, but someone needs to keep Mark headed down the right path! As an accomplished modeler himself, he will gather parts, call on customers, research part numbers, supplies, and of course offer advice on various projects that roll into the shop. He will always be able to boast that he earned his Master Model Railroader award almost 2 years sooner than Mark! As Mark's business continues to grow, Marv plans on taking on more responsibilities.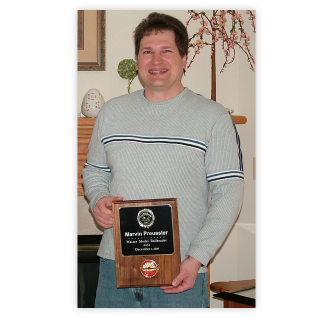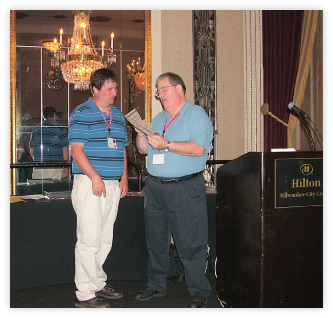 While proud of the above accolades, there are many things still to learn in the hobby for Mark and Marv. No one is great at everything! Mark also notes that he's not going to be learning about new products or techniques "on your dime". The custom services are limited in scope to what he feels provides you with the most value and what he's confident in doing. Whether it's DCC installations, painting, or custom building, if MMR is not up to the task they'll tell you up front and recommend another shop. On the following pages you'll discover the products offered exclusively by Mark's Model Railservices and some samples of their work.